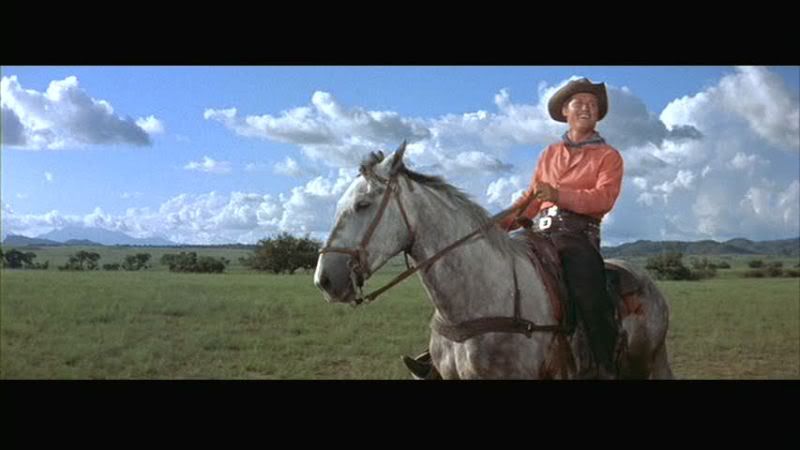 I had Oklahoma on my original list of films to profile this summer, but it didn't happen because I found out that I didn't own the DVD. How this happened I do not know. I have now remedied this knowing full well that I will have to eventually buy a high definition copy. It's just one of those films that should be as pristine as possible upon viewing.
Following the farmers and the cowboys of Oklahoma just prior to statehood, Oklahoma! weaves story, song, and dance into a mosaic of lightness against darkness and everything in between. The story centers around the niece of a on old maid who owns a farm. She finds herself caught in the middle of two men who battle for her affections–the cowboy she takes a shine to and the farm laborer who worships her from afar and whom she uses to exact her revenge on the callow cowboy who she deems more than little too sure of himself.
Oklahoma! hit Broadway like a tsunami. Hollywood clamored for the rights and when that failed, the bigger studios attempted to build musicals that could compete with it, but few could even come close. From the time the show opened on Broadway until the release of the film, 12 years had passed. Had the film been released much earlier, it would have competed with the original production which ran 2,212 performances and went on tour across the country and around the world.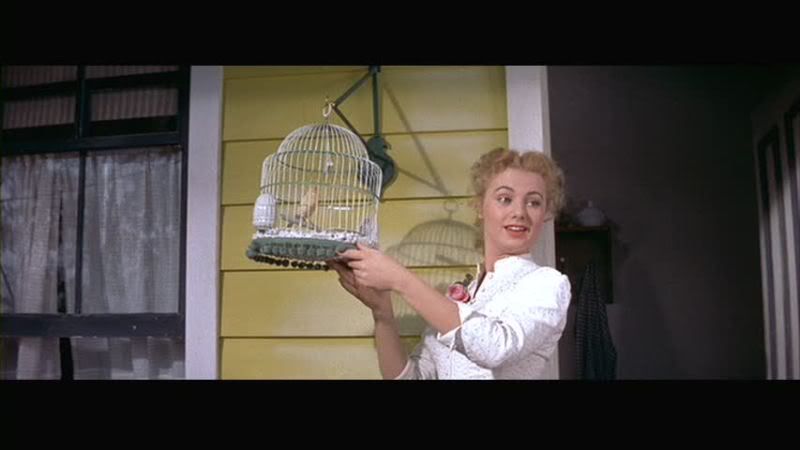 Not only has Oklahoma! enjoyed continuous success since it's original stage debut, but it has crossed generations and sprouts interest in upcoming generations and surely those to come. When I was little, my mom would sing, "Oh, What a Beautiful Morning" to me out of the blue and in doing so she helped plant the corn seed, so to speak, of my love of classic movies. It was one of my first memories of watching musicals to see Oklahoma! for the first time on television. Oklahoma! is definitely part of that well-known family of musicals including Rogers and Hammerstein productions like Carousel, The Sound of Music, and State Fair–as well as My Fair Lady and Oliver!, etc. It's almost perfect, but there's nothing sterile about it. Oklahoma has an edge that threatens to overtake the film, but never does–it has a balance that the Warner Bros. films of the 30s share with the added brilliance of Todd-AO color.
Rogers and Hammerstein had their hands in every aspect of production on the film and by the end Oklahoma! was the most expensive movie musical made to date. It was a huge risk to put an unknown in the lead role, but that's what they did with Shirley Jones. Rogers and Hammerstein quickly helped Shirley build experience–from her first audition to a small chorus role in "South Pacific"–her rise was fast, but calculated. Shirley Jones under personal contract to Rogers and Hammerstein and as she says, she was the only person they ever held under personal contract. The producers auditioned hundreds of other girls for the role of Laurey Williams, but kept Jones in mind–she was just the age for the role, she looked the part, and most importantly she had natural talent that they saw could carry the motion picture version of their beloved production.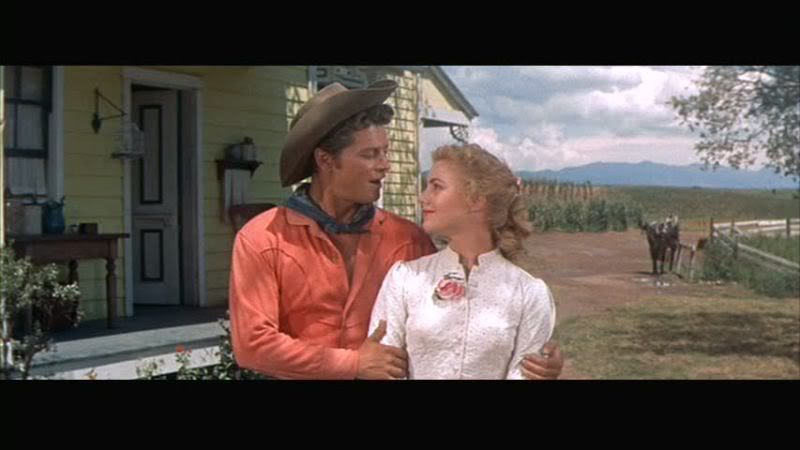 Gordon MacRae was familiar with Rogers and Hammerstein, he lobbied for the role of Curly and again with Billy Bigelow. I'm always struck every time by MacRae's entrance with "Oh, What A Beautiful Morning" through the cornfields–almost as iconic as Julie Andrews' entrance in The Sound of Music. It's easy to dismiss Gordon MacRae when you see his films with Doris Day, still lovable, but often a little too purdy–that is, until you sit down and watch Oklahoma! or Carousel and get carried away into scenes beyond your control. That is–if you're me. I can imagine that others are not easily swayed by MacRae's charms much in the way that I'd rather leave than take Howard Keel.
The supporting actors are marvelous. It is no secret that I love Eddie Albert and to be quite honest, I didn't realize until recently that the peddler man was Eddie Albert. Not sure how that made it past the radar, but there you are. Charlotte Greenwood is my hero. All she has to do is her high kicks and I'm in, but she plays Aunt Eller brilliantly. I know Rod Steiger was hesitant about certain scenes, in particular "Pore Jud is Daid," but honestly he and Gordon MacRae appear to be having so much fun in that scene that it almost takes you out of it. I can't help but smile prior to the first gun shot ringing out. He really is brilliant considering his background is hardly that of musical comedy. Gloria Grahame was an awkward choice for Ado Annie–I think even more awkward than Eddie Albert was as a Hungarian Peddler man, but it works. It truly does. It gives film a more earthy appeal and matches the slightly more sophisticated performance of Gene Nelson. At any rate, I've grown to accept her character–there's more to that about me maturing than it is her performance. Oklahoma! also boasts James Whitmore, Jay C. Flippen as well as dancers Bambi Linn and James Mitchell. The ensemble of dancers was hand-picked by choreographer Agnes de Mille.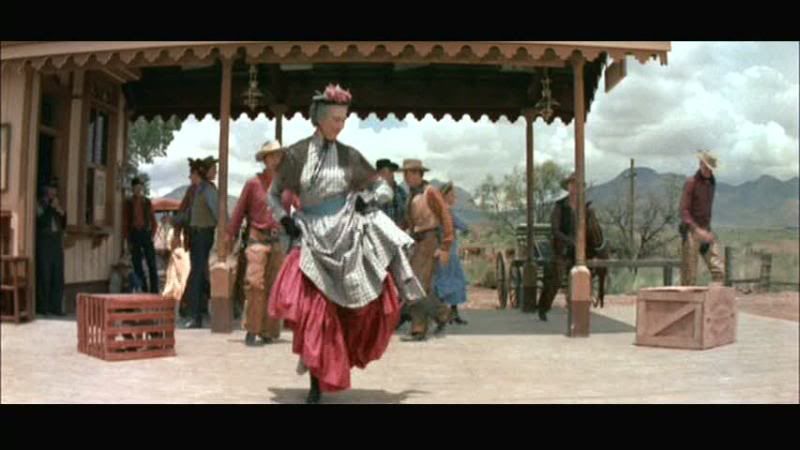 Rogers and Hammerstein stayed faithful to the original stage show with slight changes–all perfect for the film version, making the plot clip along just a little faster especially in the beginning, but the running time of the film is still 145 minutes. Surely if a studio had control of the production, a lot more cuts would have been made–specifically the ballet sequence. I admit to forwarding through said sequence. I'm terrible, however, when you do give it the time it is quite a beautiful piece of work, but it really adds little to the plot accept color and foreshadows a bit more than is necessary.
The songs are beautiful. The original cast album included Alfred Drake, Joan Roberts, Celeste Holm and Lee Dixon. Nelson Eddy also recorded an album in 1952. While Afred Drake had a wonderful voice, Joan Roberts hardly had the purity of Shirley Jones' vocals. Nelson Eddy recorded a wonderful in album, too, but it hardly can compare to the fullness of the film soundtrack with well-rounded vocals of Shirley Jones and Gordon MacRae–the loveliness of "People Will Say We're in Love," "Oh, What a Beautiful Morning," "Many A New Day,"–it's wonderful. The music builds in all the right moments. Although it seems to verge on the side of saccharine, I never feel it ever gets there–it all melds together to create lightness against the more insidious climax of the film and lilts the plot softly down again to an all American type of camaraderie.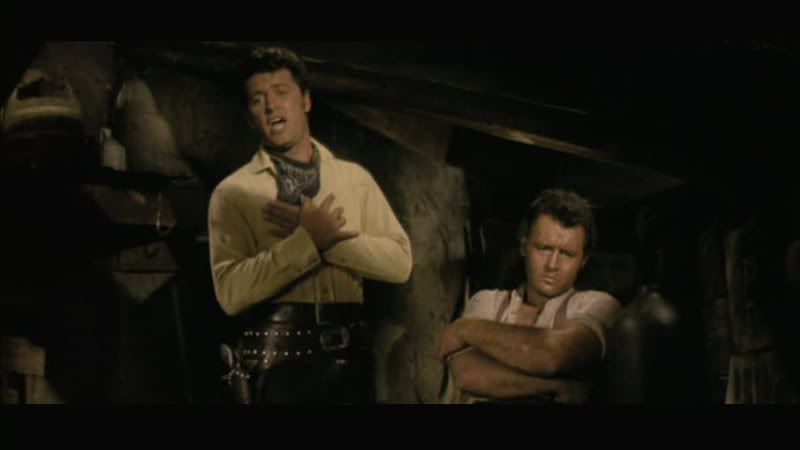 Oklahoma! is the all-American musical. Shortly after the publicity ended for the film and seas were calm again, Shirley was given the option to go on tour with one of Rogers and Hammerstein's companies. She ended up doing "Oklahoma!" in Europe with future husband Jack Cassidy in MacRae's role. The appeal of "Oklahoma!" Jones said, is in the promise of the west, in the cowboys and taming one's own territory. Rogers and Hammerstein capitalized on this theme and made it real, they dissected a slice of Americana as simple as apple pie and made it rich and complex with layers that are just that–deceptively simple. Seems one can never get their fill of it.